Why we do this work
Our mission at Jacobson is to help create and empower the next generation of innovators, inventors, and entrepreneurs. We want to help young people succeed in their dreams.
What we do
Equip students with innovation and entrepreneurial skills that are critical for young people to have now and for the future. These concepts and 21st Century Skills, like critical thinking, problem solving, adaptability and resiliency, are absolutely vital for students to become future ready.
For whom
It's important that all young people – not just a select few – can succeed, discover their value, and see that they can contribute to their community. Students need to share a common ground for their success and that of their communities.  
How we do this
Maximum impact with students is achieved through their teachers, with whom we partner to provide curriculum, instruction, and assessments in innovation and entrepreneurship. Working with educators, we help to build and foster connections between students and the real world, so today's young people can find their place in it. 
We're all stakeholders in the next generation's future
Teachers, schools, community partners. Everyone has a stake in helping young people learn these skills and succeed in the global economy -- for their future and that of our communities. We believe the innovation and entrepreneurship work being done at the K-12 level today helps drive prosperity and economic development now and into the future. Together, we can drive these opportunities for the next generation.
Here's how we can help: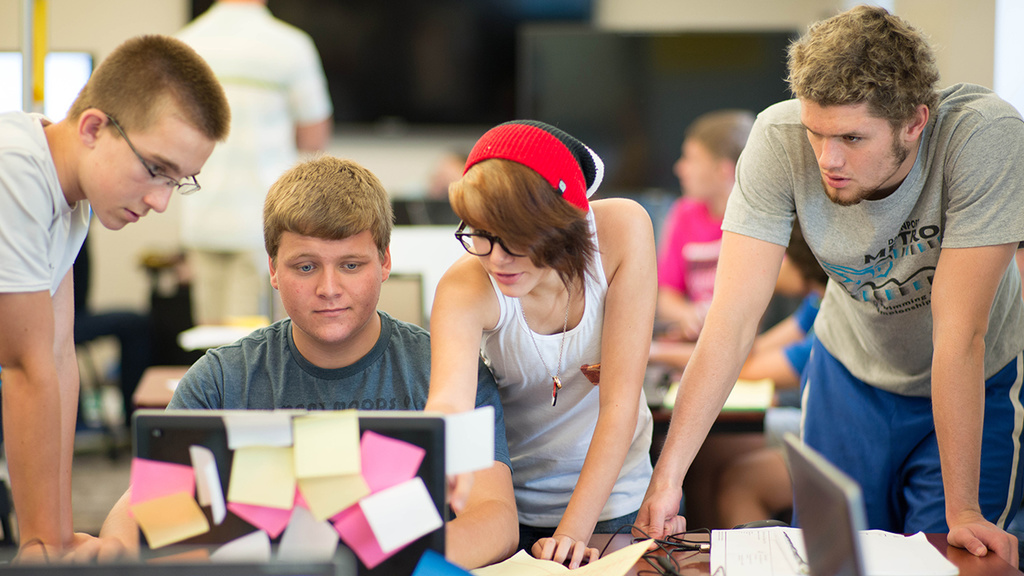 Teachers
Inspire your students! Bring the best of entrepreneurship and innovation concepts into your classroom. We can help with professional development and curriculum toolkits you can put to work in subjects such as physics, chemistry, robotics, computer science and technology, agricultural science, business and marketing. 
School districts
Build an innovation model allowing for interdisciplinary collaboration between teachers and even schools across your district. Through our professional development programs, teams of teachers can gain the knowledge and confidence to collaborate across classes and disciplines. Together, you can create a robust innovation model for your school.
Communities
School and community partnerships support the creation of a strong local economy.  We help schools and communities create authentic and robust partnerships focused on helping young people develop the innovation and entrepreneurial skills needed to be future ready.
Leveraging our tools and know-how
We accomplish these goals through teacher professional development, curriculum resources and ongoing support for teachers and communities who choose to embark on this journey.
Our focus
Create innovative, hands-on and engaging educational opportunities for young people.
Incorporate our expertise in professional development and curriculum resources for teachers.
Help teachers and schools develop their own innovation model that works best for them and their community.
Feature the latest methodologies, such as Design Thinking, Lean Startup and the Business Canvas.
Encourage students to work on real-world problems in their community.
Research-driven learning
Our focus builds on the research expertise of the University of Iowa, a Tier 1 research institution.
Being research-driven means helping students make data-driven decisions to improve their skill set and move their projects forward.
It means helping educators see measurable results in the experiential learning that we help them develop.
We believe it's critical to measure impact on students' development of 21st Century Skills and to expect results and demonstrate the impact from our programming.
We offer multiple opportunities for students to engage in this type of learning, through our STEM Innovator® and BizInnovator programs.
What's in it for students
We believe this work is so important that we -- in partnership with the University of Iowa Tippie College of Business -- offer college credit to qualifying students of Certified STEM Innovator® or BizInnovator instructors. Students earn these credits by completing an end of course assessment.
They also gain:
A sense of accomplishment. They've passed a college course!
Real-world application of high school coursework.
A portfolio of work and experience that can assist them in the college and career application process
"What we do in public ed is not very reflective of what students will do the rest of their lives. Students are going to need soft skills and to create and innovate. Most fields they will work in aren't even identified yet. So the value is helping the system innovate from within and look different and start to change. I believe in the work you're doing. Without efforts like this, it will be hard to change."
"(The curriculum) provided a basis and background that I needed. It provided teamwork skills, helped me gain confidence in public speaking, and helped me to better understand my own strengths and weaknesses."
"I was very impressed with your students. They all demonstrated the ability to acquire market feedback, present their work in a professional environment, and adjust their ideas to pivot with the information gathered from the market. All of these skills are valuable in both large and small businesses. The value of these experiences cannot be overstated for these students, they're solving real-world problems and applying their education in new and challenging ways."